Lions, Tigers and Bears - oh my!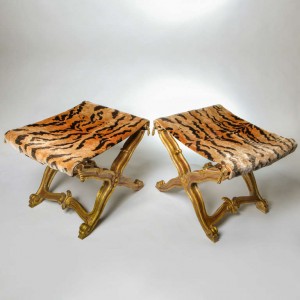 Linda Horn giltwood stools w/ tiger velvet on 1stDibs
As we settle into autumn and the winter season is but a northerly wind away. Our ancient ancestors lived more intimately with the earth's inhabitants then we do today but the psychological warmth offered by animal fur is coded in our DNA. With central heating and insulated buildings we no longer need fur for warmth, but oh how we love adding touches of realistic looking, but ethically conscious, faux fur to our rooms.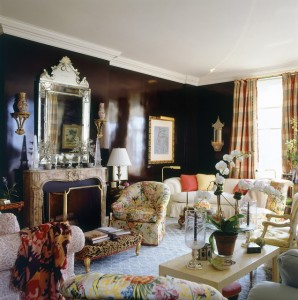 Mario Buatta room with giltwood stool in leopard print velvet from The Skirted Table blog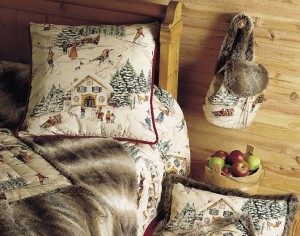 Found on dragonflytahoe.com
While poking around on 1stDibs and The Skirted Table recently we discovered some beautiful examples to inspire your use of our luxurious animal print fabrics. Antique dealer Linda Horn's fabulous giltwood stools covered inScalamandre's Le Tigre immediately caught our attention, as did Mario Buatta's use of leopard print on the over-sized stool in front of the fireplace.
The faux animal skin throws of Pierre Frey are a perennial favorite and one of the more casual ways to combine the look of animal prints and faux fur is for your cabin in the woods decor. Whether your interiors are entirely neutral or lush with pattern and color the addition of aPierre Frey faux fur (at HUGE savings!) throw or an occasional chair or gilt stools in animal print always looks right. Why not wrap someone you love up in one for holiday gifting? - you know they will love it!
At iLuvFabrix we always have a wide selection of exquisite designer animal prints and luxurious faux fur to add color and texture to your interiors.
Feature image of Charles Lapicque The Tiger, 1961 lithographie available from Galerie Roussard on 1st Dibs.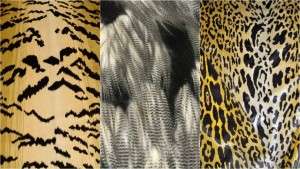 Left to Right, Scalamandre 100% silk velvet Le Tigre, Pierre Frey brand new black and white Peacock faux fur throw, Scalamandre 100% silk velvet Leopardo - all from iLuvFabrix