MOHAIR VELVET CHAISE, ORIGINALLY UPHOLSTERED IN 1920'S, OUR FABRIC #9497007N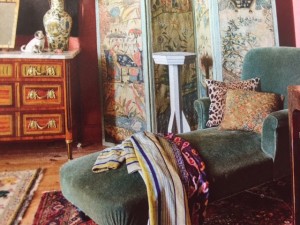 This is a fabulous Chaise, upholstered in Mohair Velvet, currently appearing in the September 2015 issue of Architectural Digest and is in the home of the Creative Director for Oscar de la Renta.
This beautiful mohair velvet chaise was first upholstered in mohair Velvet in the 1920's, and it is a testament to the longevity of Mohair Velvet that it only recently needed recovering.
The fabric they used is our Fabric ID number 9497007N, and you can have it too by looking up Mohair Velvet Fabric ID 9497007N in the Search window of our website, https://www.iluvfabrix.com/ and putting the preceding ID number into the Search window which appears on every page.
We have many colors of Mohair Velvet from which to choose, and they are ALL ON SALE!!
HERE IS YOUR CHANCE TO DECORATE YOR HOME LIKE THE HOME OF A STYLE ICON, AND DO IT AT AFFORDABLE PRICES.