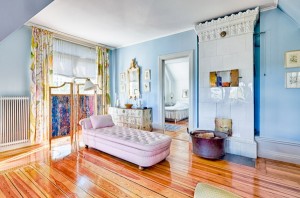 From Sweden's 1880's built Breidablick Wooden Palace, image from Adorable Home. Please visit them on: http://adorable-home.com.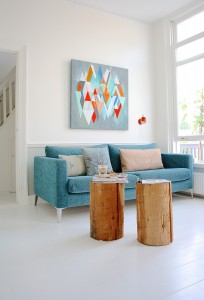 Teal velvet settee, image from Panda's House. Please visit them on: http://pandashouse.com/living-room/.
A friend having recently applied for a position there, we have been thinking about Scandinavian design and how Danish Modern and Gustavian periods always feel so fresh. Scandinavian design is about beating the mere five hours of sunlight during the winter. Their design aesthetic permeates our sub-consciousness, even when it's only the pillows, lap rug or sofa colour that we 'notice'. We are drawn to sink into creamy white rooms with bits of colour, or pastel rooms of blue, pink, yellow and greens with lots of white - the eye candy, the royal frosting flowers, the nonpareils, the sprinkles on top. Everything 'goes with' white, right? And to the interior designer or DIY home decorator nothing makes the room more livable than sumptuously thick velvet dressing a chaise, a favourite chair, the perfect tufted ottoman or an oversized Aiken style sofa.
So much of living well is about creating a refuge from the world for ourselves and our guests. However different the images of these rooms might be, each speaks a whispered invitation to be comfortable and to swoon just a little over the mere idea of occupying such a piece of furniture in such a room. A book, a mug of fine loose leaf tea, the gloaming coming on and soft lights making the colours all the more jewel-like iLuvFabrix makes sourcing these gorgeous fabrics not only easy but infinitely affordable.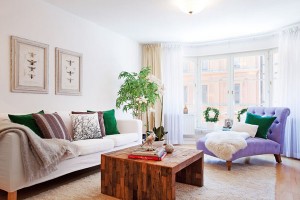 Image from 1 Kind Design. Please visit them on: http://onekindesign.com/2013/04/22/41-warm-and-stylish-scandinavian-living-rooms/.
Right now we have over 700 velvet fabrics in stock to choose from. From Donghia we have more than 40 incredible examples including a deep amethyst purple and a Ceylon sapphire mohair velvets.
Let iLuvFabrix bring one (or more) sumptuous Donghia colors into your home this winter at prices that will make you swoon with delight!